Customized Website promoting
Most companies know how important marketing is for their business. However, when promoting a Website, some of the traditional marketing techniques can not be applied directly into this new media.
Promoting a Website can be a time consuming process that needs to be completed on an ongoing basis. Website promotion is not just receiving high rankings on the search engines. A blend between active Net techniques, passive Net techniques and traditional marketing techniques is just as important, but too often forgotten when promoting a Website.
Contact us to let one of our highly experienced consultants advise you on how to promote your Website. As part of our efforts, we can offer you full Internet marketing analyses. Based on our recommondations, we can also restructure your Website to becoming a professional Internet marketing tool.
By using us, you can focus on your business and let GSL Technologies Inc.'s experts handle the promotional work for you. In addition to our customized promotional package, we also offer what we call GSL Promote packages.
PAY-PER-RANKING
A part of the GSL Promote Custom is based on a pay for result/ranking system. You pick one or more keywords (or combination of keywords that represents your business and choose which search engines you want us to promote your company on. For instance the keyword "Design" at Google and Yahoo. You pay for the results generated: If your company is ranked nr.2 on Google with keyword "Design". You will pay $49.95 each month this combination stays in a top 3 spot. If "Design" is ranked in position 15 (second page) on Yahoo you will pay an additional $9.95 a month for this position. The key is in other words to pick the right keywords for your business and the search engine that will provide the best results for you. Should we fail in positioning your keyword on the third page or better you pay absolutely nothing else than the initial setup cost and the customizing of your pages**.

Other search engines available, please contact us.
GSL Promote Custom*

Google

Yahoo

MSN

AOL

Ask

Others

Position 1-3*

$49.95/mo

$29.95/mo

$29.95/mo

$14.95/mo

$14.95/mo

$9.95/mo

Position 4-10*

$34.95/mo

$19.95/mo

$19.95/mo

$9.95/mo

$9.95/mo

$7.95/mo

Second Page*

$19.95/mo

$9.95/mo

$9.95/mo

$4.95/mo

$4.95/mo

$2.95/mo

Third Page*

$4.95/mo

$2.95/mo

$2.95/mo

$1.95/mo

$1.95/mo

$1.95/mo

Other positions*

FREE

FREE

FREE

FREE

FREE

FREE

Initial Setup

$99.95

<---

<---

<---

<---

<---

Customized Pages**


$9.95/page
or FREE**

$9.95/page
or FREE**

$9.95/page
or FREE**

$9.95/page
or FREE**

$9.95/page
or FREE**

$9.95/page
or FREE**
* Monthly cost based on ranking per keyword/search engine in Canadian dollars. Applicable taxes to be added. Offer valid for signups before December 31, 2009. Offer might be withdrawn at any given point without any notice.
** FREE if you sign up for at least 3 keywords + 3 search engines for a period of 12 months. Limited to 20 pages on your website.
SPECIAL OFFER
valid until June 20, 2009
Buy 2 keywords for Google+Yahoo+MSN
GET 50% OFF all subsequent keywords/engines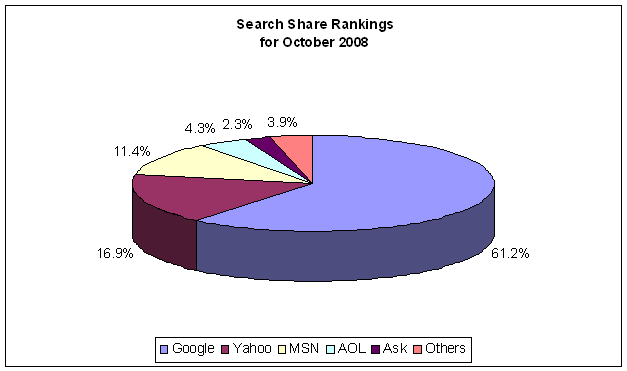 Source: Nielsen Online / Megaview Search