OUR PROMISE
We don't just want you to use our software, we want you to love it.
That's why you can count on us to support you with everything from affordable installation to a 60-day full money back guarantee.
Give us a call, we promise you won't be disappointed.
CONTACT SALES
8:00am - 5:00pm

Phone:
+ 1 905-231-9713
Toronto Line:
+ 1 416-303-5180
Toll Free
(US/Canada):
+ 1 866-441-6088
e-mail

We Accept

GSL Technologies Inc. is located in Pickering, Ontario, Canada. Serving customers all over the world, our local services cover Greater Toronto Area, including but not limited to Ajax, Oshawa, Pickering, Scarborough, Whitby and more.
GSL PROMOTER SERIES - REAL ESTATE PROMOTER
Real Estate Promoter, powered by Listings Promoter, is an easy to install, web content management software solution used for showcasing Real Estate Listings. Whether you are building or operate a website for an independent realtor, a realty agency or even a "for sale by owner" site, Real Estate Promoter allows non-technical users and realty agents to quickly create and publish realty listings to their website, using only their browser.
Real Estate Promoter is so easy to use that just about anyone can add listings, upload images and create their own "agents" homepage in just a few minutes. Users easily log into the program and create listings by entering a property's information into a group of fields. (E.g. square feet, number of bathrooms, etc). Once a user clicks save, the listing is instantly updated to the website. Prospective buyers can now view listings that match the criteria they are searching for, and inquire about the property listing they are interested in.
Real Estate Promoter is more robust, customizable, and affordable than other solutions on the market today. Backed by a 60-day money back guarantee, Real Estate Promoter is a "must have" for any Realty Professional who is marketing their listings online or who is going to get online soon.

Real Estate Promoter Key Features
Allows you to easily add and update your listings online, no HTML required.

Use ready-to-go Real Estate templates/database fields.

Powerful search engine lets website visitors find exactly the listing they want.

Can be customized to match the look and feel of your website.

Supports multiple users and different access levels.

Supports up to 10 photos per listing.
BUY NOW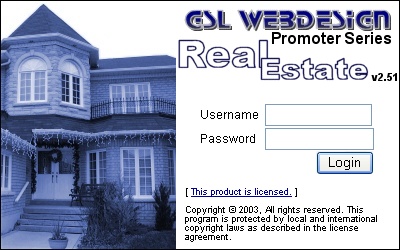 START UP BUNDLE

INTEGRATION BUNDLE

SW ONLY Licensed

SW SELF SERVICE^

$1,995*

$1,495*

$895*

$795*

FEATURES

FEATURES

FEATURES

FEATURES

SOFTWARE
+

SOFTWARE
+

SOFTWARE
+

SOFTWARE
+

CUSTOM MADE
10 page website

FULL INTEGRATION
with your existing website

UNCONDITIONAL 60 DAY
Money Back Guarantee

UNCONDITIONAL 60 DAY
Money Back Guarantee

FREE REGISTRATION/RENEWAL
of your domain (.com/.org/.net/.ca)

FREE REGISTRATION/RENEWAL
of your domain (.com/.org/.net/.ca)

FREE MONTHLY FEES
first year included

UPGRADES AVAILABLE

FREE GSL PROMOTION
on 5 major search engines

FREE GSL PROMOTION
on 5 major search engines

ONE FREE UPGRADE
first year included

PHONE SUPPORT AVAILABLE

FREE FIRST YEAR
of domain hosting

FREE FIRST YEAR
of domain hosting

FREE SUPPORT
first year included

-

FREE SOFTWARE
INSTALLATION

FREE SOFTWARE
INSTALLATION

INSTALLATION SERVICE
available (add $59.50)

-

FREE UPGRADES & SUPPORT
first year included

FREE UPGRADES & SUPPORT
first year included

-
*All prices in Canadian dollars. Taxes to be added where applicable. Prices subject to change without notice. Monthly hosting fees and license fees($5.95/month) additional. ^ SW Self Service: You install yourself. Upgrades, $99.95 per upgrade. Phone support $15 per started 15 minute increments.
Offer valid until December 31, 2009
System Requirements | 12 reasons to choose us | Software License Agreement