Welcome to the
news section of
GSL Technologies Inc.
and the GSL Group.

MAILINGLIST:

Please sign up to our mailinglist to receive information and news
directly to your mailbox.

We keep our mailinglist strictly private and it will only be used by the GSL Group.

Please SIGN UP here!

NEWS From the GSL Group:
GSL Technologies Inc. to redesign site for MoodyWear.com.
Ajax, Ontario - October 15, 2003:
MoodyWear.com Inc. is a newly expanding company committed to spending a great deal of time and effort listening closely to your needs and wants. We will strive to meet those needs and wants in a way that emphasizes quality, reliability, and service (The QRS Theme). Moodywear.com is guaranteeing to provide thorough and professional customer services as well as operate by the highest ethical standards.
MoodyWear.com specializes in Belly Dancing apparel, which include Belly dancing accessories and other custom made items such as exotic designs, costumes and fun intimates all at a reasonable low price. All our products are 100% hand made (100% hand woven).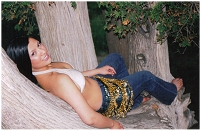 For more details about this product, please contact us.